Books
Supporting your organization with a $75 purchase qualifies you for FREE shipping.
#6102 Crockpot Shaped Cookbook
Bring out your crock pot slow cooker and you're on your way to more than 25 recipes perfect for any and all occasions. Choose recipes from chapters as Breakfast Favorites, Soups, Stews, and Chilies, Meaty Main Dishes and Sensational Sides. Most recipes also include a full color photo. This crock pot slow cooker shaped board book makes a great gift for anyone in your home. You'll soon find great recipes and great times ahead. 6 5/8" x 7", 48 pages
View Item
#6200 Crock Pot Main Dishes
Feed your family a hearty home style meal built around one of the fantastic (and filling) recipes inside this cookbook. Contains 48 main dish recipes as easy to make as they are sure to please. Approx. 5" x 8 1/4", 80 pages, spiral bound. Titles may vary
View Item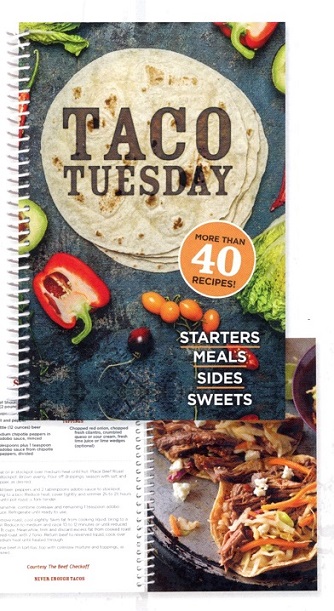 #6501 Taco Tuesday Cookbook
Everyone's favorite meal-tacos. You'll find a collection here sure to please everyone in your home. Try taco dips and spreads, brunch ideas, classic tacos, casseroles, sides and even sweets. This collection is sure make your Taco Tuesday a memorable day each week. More than 40 recipes await you. Try some this week, save some for next. You'll love them all. Approx. 5 1/4" x 7 3/4", 96 pages, spiral bound.
View Item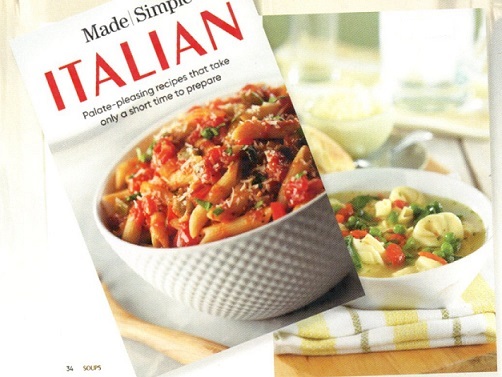 #7303 Made Simple Italian Cookbook
Enjoy the fresh flavors of Italy with fast, foolproof recipes. Choose from dozens of classic and contemporary italian recipes. Including appetizers, hearty soups, quick to fix sandwiches and salads, one pan pastas and main main dishes, even simple desserts. More than 65 fabulous recipes and photos. 6"x9". 144 pages.
View Item
#8601 Ortega Mexican Fiesta Cookbook
Bring the family together with fun, fresh and tasty recipes from Ortega. Simple yet sensational Mexican dishes your whole family will love. A fiesta themed shaped book bursting with over 40 favorite recipes. The ultimate easy to use book that lies flat on the counter. Each recipe includes a beautiful color photo of the finished recipe and miniature photos of key ingredients needed to make the recipe. Approx. 7 3/4" x 6 1/4", 48 pages.
View Item
#8703 Eat That Frog!
You want to get organized, simplify your life, focus on priorities and get more done in less time. In Eat That Frog!, author Brian Tracy, one of America's leading authorities on development of human potential, cuts to the core of what is vital to effective time management decision, discipline and determination. In 21 practical steps, he will help you stop procrastinating and get more done. Simple truths has taken this great book and made it more engaging with great graphics and embossed hard cover and packaging that can create a "WOW" effect to turn this great book into the perfect gift for employees, customers, friends and family.
View Item
#8704 Finding Joy...Simple Secrets to a Happy Life
Life can be complicated but happiness...is simple. That's what this little book is all about...Simple Secrets to ta happy Life. Sit down in a quiet place and slowly soak up every simple page. Read each thought and reflect on how it might apply to your life. Think about what is...and what could be. Keep it close and read it often for doses of inspiration. In just a few minutes this book can put a smile on your face in your heart when you need it most.
View Item